Overview
Properties represent the physical premises that your Technicians will service. Each Property should be defined with one or more Assets which represent the physical items that need to be tested and serviced. A Property can belong to only one Contract at this point in time.
Creating a New Property
You can add a New Property from the Create menu, the Property search screen, the Contract screen or from within the Property screen itself.
1. To Create a new Property from the Create menu, select [Property] from the list of options.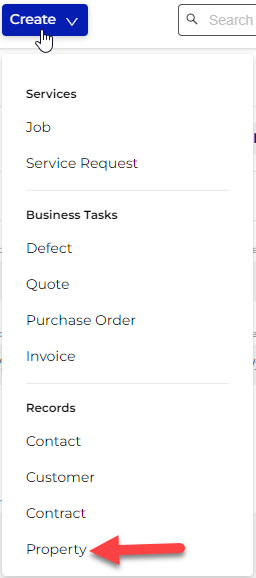 2. When prompted set the 'Contract Name' and the 'Name' used to identify the Property.
3. Fill in the 'Region/Zone' and 'Address' details.
4. Select [Create] to finish creating your new Property. At this point, you will be redirected to the Property Details screen where you add additional information to your Property.
Changing the Details of a Property
1. From within the Property screen, you can edit the details of the property by selecting the [Details] option from the menu and then selecting [Edit Property Details].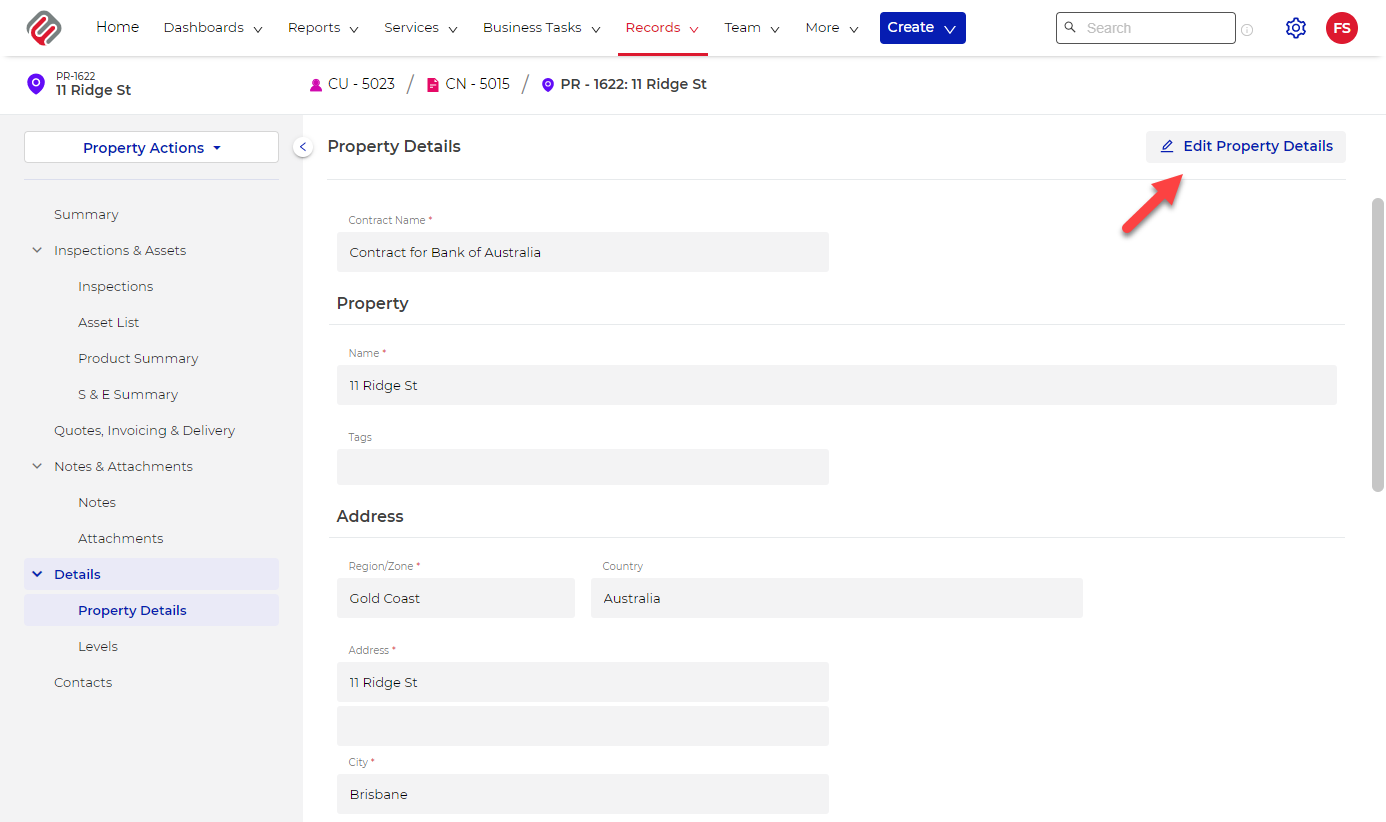 2. When you're finished changing the details of the Property, select [Save Property Details] to save your changes.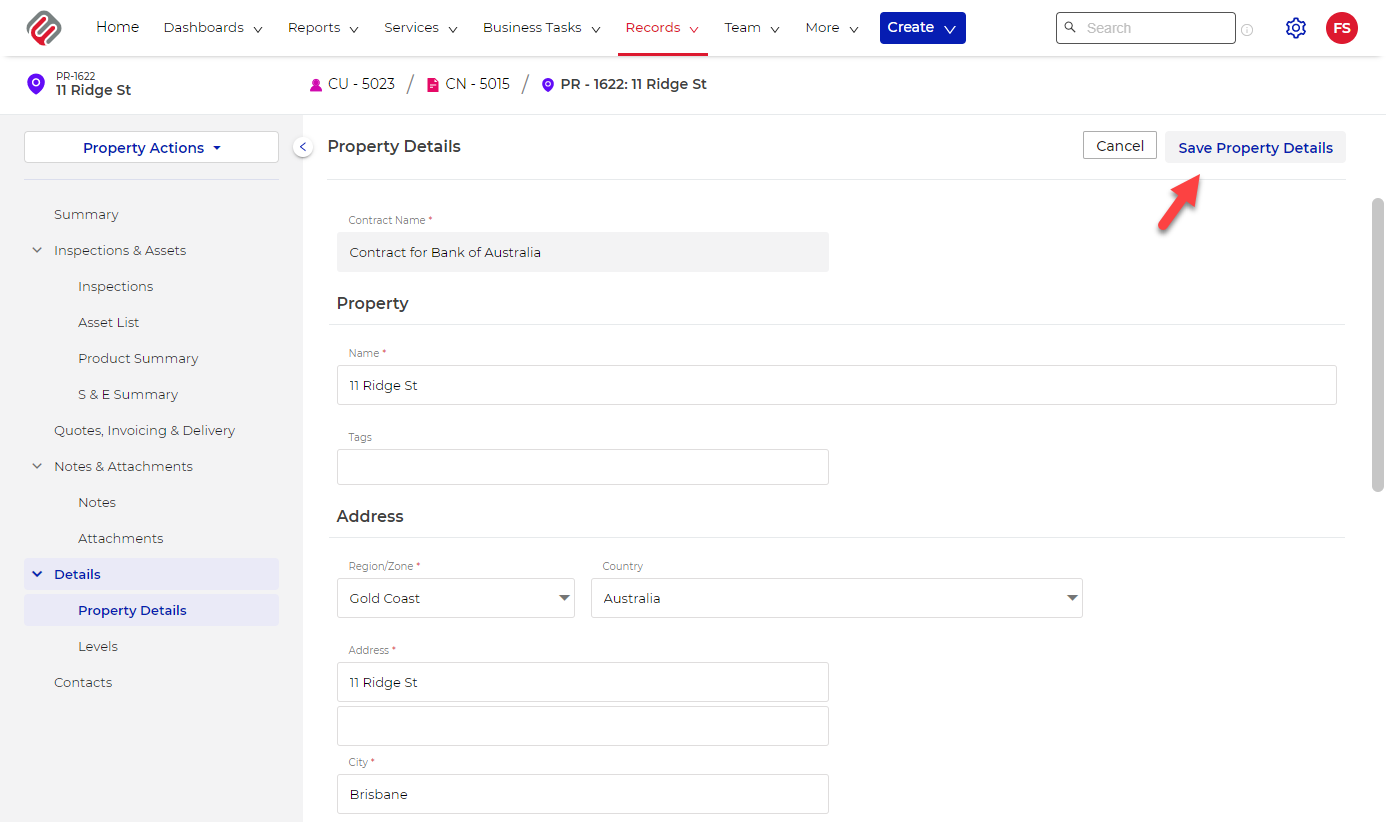 Adding an Inspection
When setting up a Property you need to set up the Product Inspections so that Routine Activities can be generated periodically and inspections can be carried out by assigned Technicians.
1. To add a new Inspection select 'Inspections' from the menu then select 'Add Products to Inspect'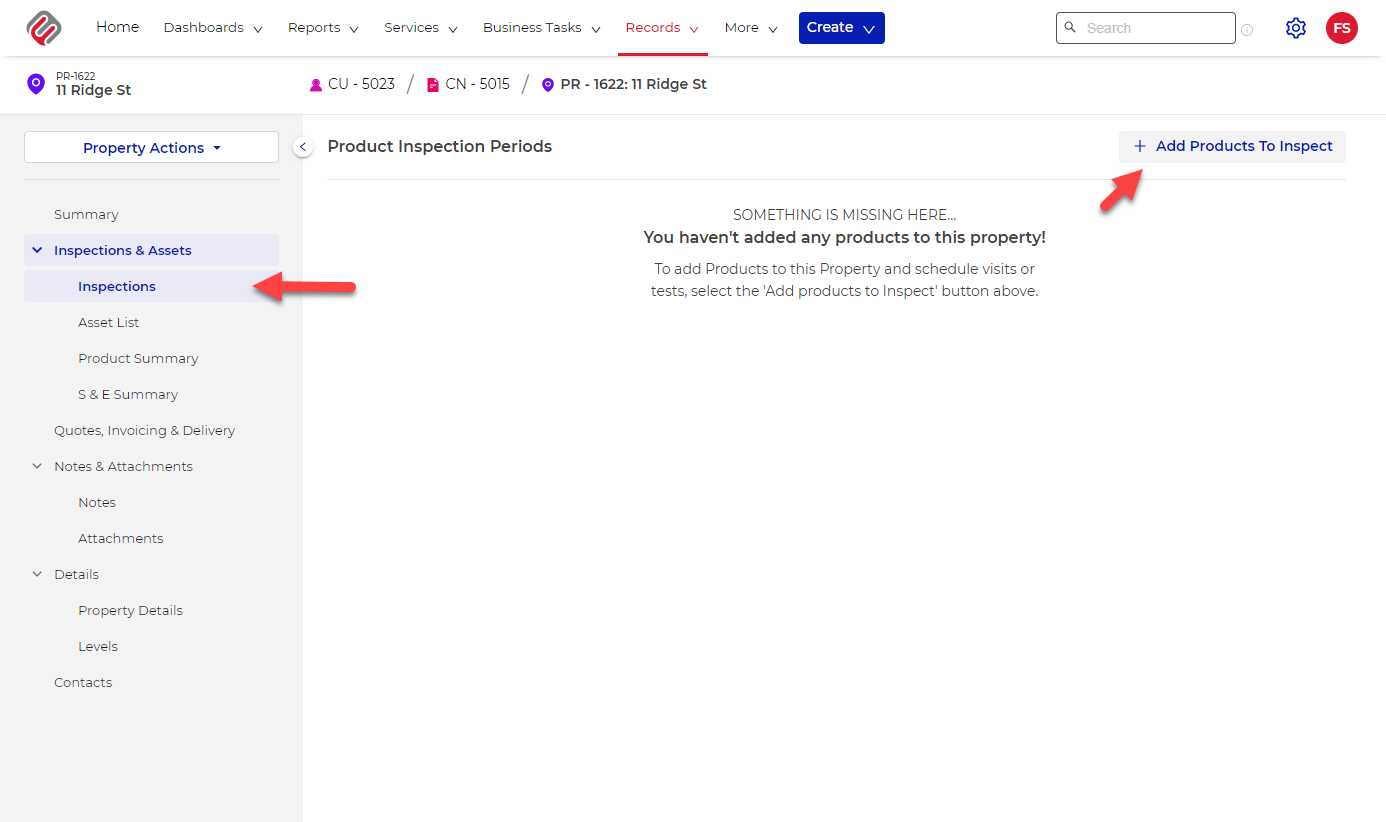 2. Select the 'S & E Type', the 'Product' and the associated 'Maintenance' and 'Installation' standards to apply. The standards are used to define the inspection periods associated with this type of Product. It also defines the tests that need to be carried out when completing a Routine Activity for this particular Product
3. If you're running a business with more than one Trading company, then select the 'Delivery Entity' and optionally, the 'Delivery Branch' which defines which of your companies will carry out the service work on this Product.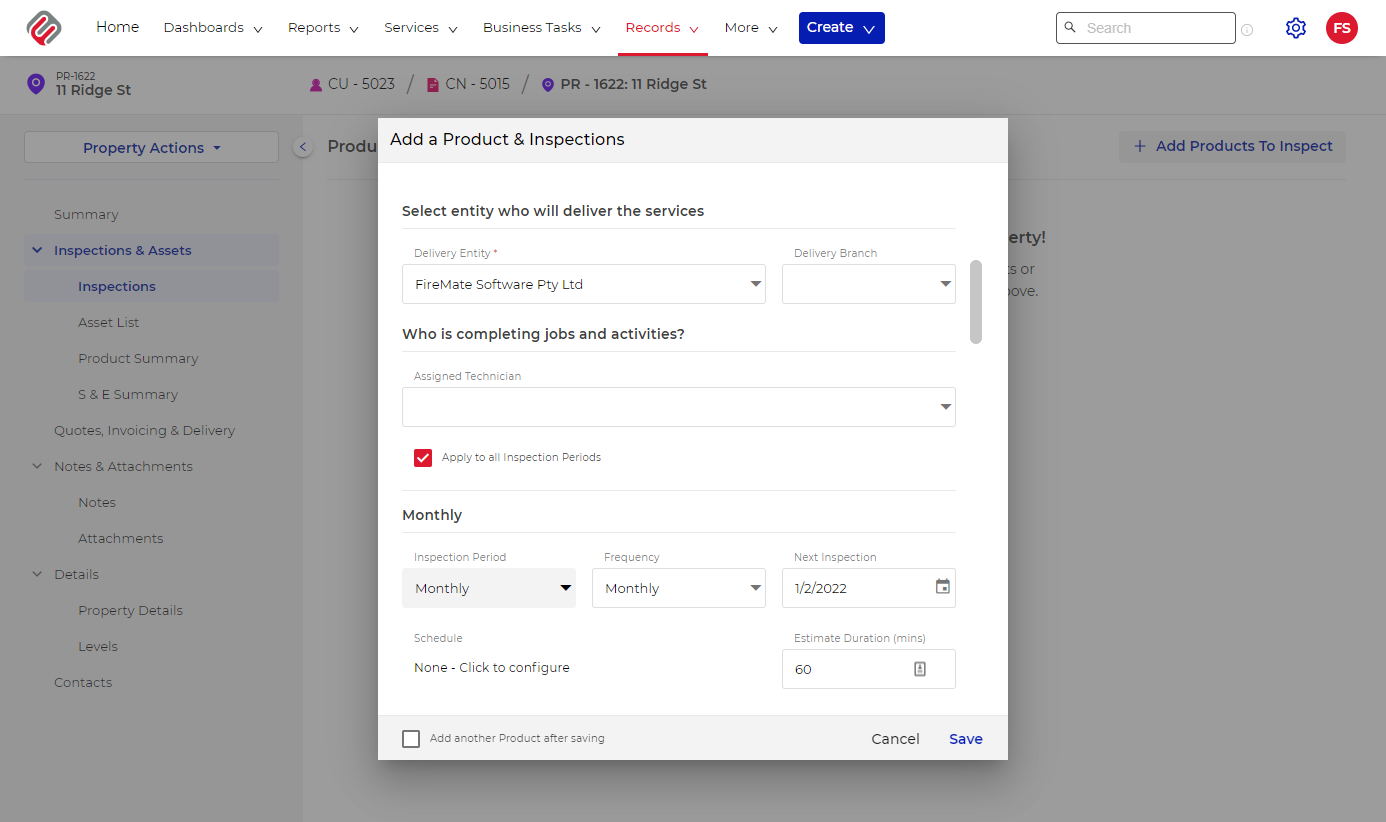 4. To pre-define which one of your Employees will carry out the service work, set the 'Assigned Technician'. This is optional, as Employees can be assigned to Routine Activities at any point after they are generated. Please note, that if your system has Products set up to combine automatically, and you enter different Employees into this field for each Product, the RA's will be split for generation and will not automatically combine.
Select [Apply to all Inspection Periods] if you'd like to set the same Employee on all inspection periods that will be set up.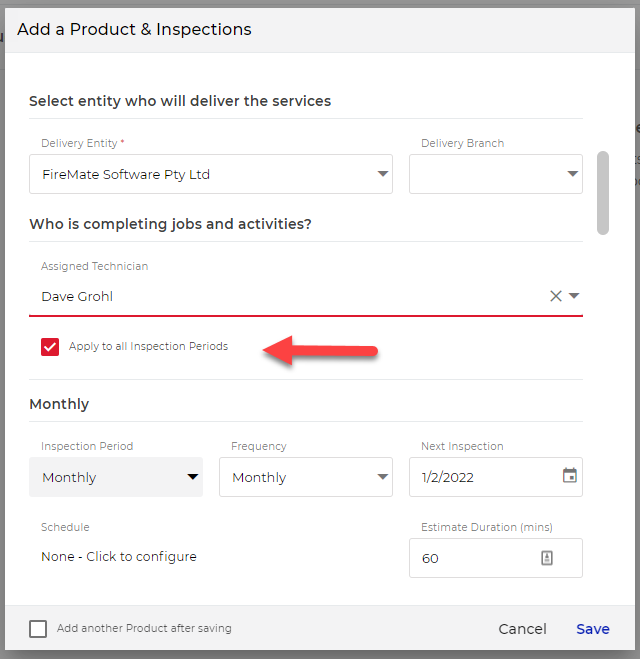 5. Now it's time to set the Inspection periods which will depend on the type of Product Inspection you're setting up, as some products require more regular inspections than others.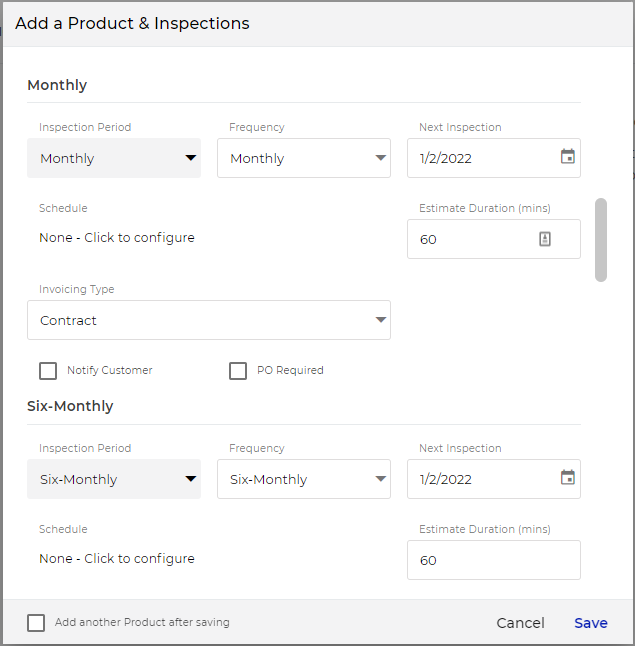 | | |
| --- | --- |
| Inspection Period | Is the period of routine servicing that is required for this Product. This is determined in the Maintenance Standard and is a locked field for our standard Products. |
| Frequency | This controls the frequency of the Inspection Period. The Next Inspection Date will roll forward based on the Frequency. This can be altered if you wish to do the Inspection Period more or less frequently than required. |
| Next Inspection | Enter the next inspection date in this field. This determines when the next Routine Activity will be available for generation. This field accepts Months only (unless weekly is selected) |
| Schedule | Use this to set a recurring schedule for your inspection. When the RA is generated, it will autofill in the "Date/Time Required" field with the date and/or time that this inspection period is set for. For example, you may have to do a monthly panel test at a school every second Tuesday of the month at 7 am. |
| Estimation | Set the estimation of minutes that this test will take you to do |
| Invoicing Type | Will determine how this Inspection Period is billed. This will default to the settings as per the Contract level, but can also be changed on individual inspection periods. For example, you have a Contract Invoice for the inspection and testing on a contract that covers all inspection periods < Yearly, but you want to charge the 5 Yearly inspection as Do & Bill. |
| Notify Customer | |
| PO Required | |
At this point, you have added the Product Inspection to your Property. If you'd like to add additional Product Inspections after this then select the [Add another Product after saving].
Select [Save] to complete adding the Product Inspections.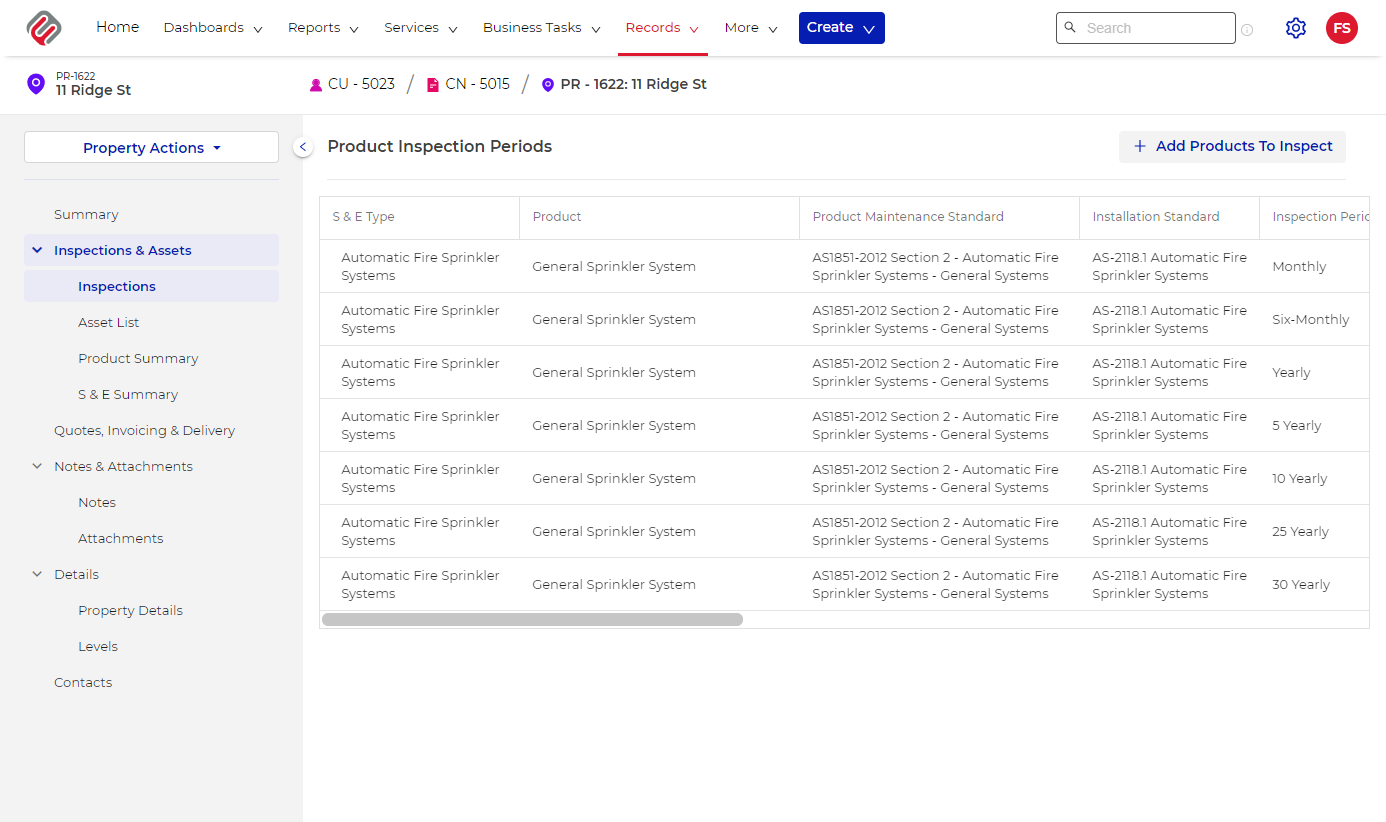 Adding an Asset
When setting up a Property, we also need to define the Assets that are to be maintained and inspected.
To add a new Asset select 'Assets' from the menu then select 'Create New Asset'

Set the 'S & E Type', 'Product' and 'Equipment Type' of the Asset

Set the Asset details accordingly. The 'Asset Number' is used [tbc]
Adding a Contact to a Property
Contacts represent the people who represent your Property. They are often addressed in Invoicing and Quotes and receive asset-related reports.
1. To add a Contact to your Contract, select the [Contacts] menu item on the left and then select [Add Contact].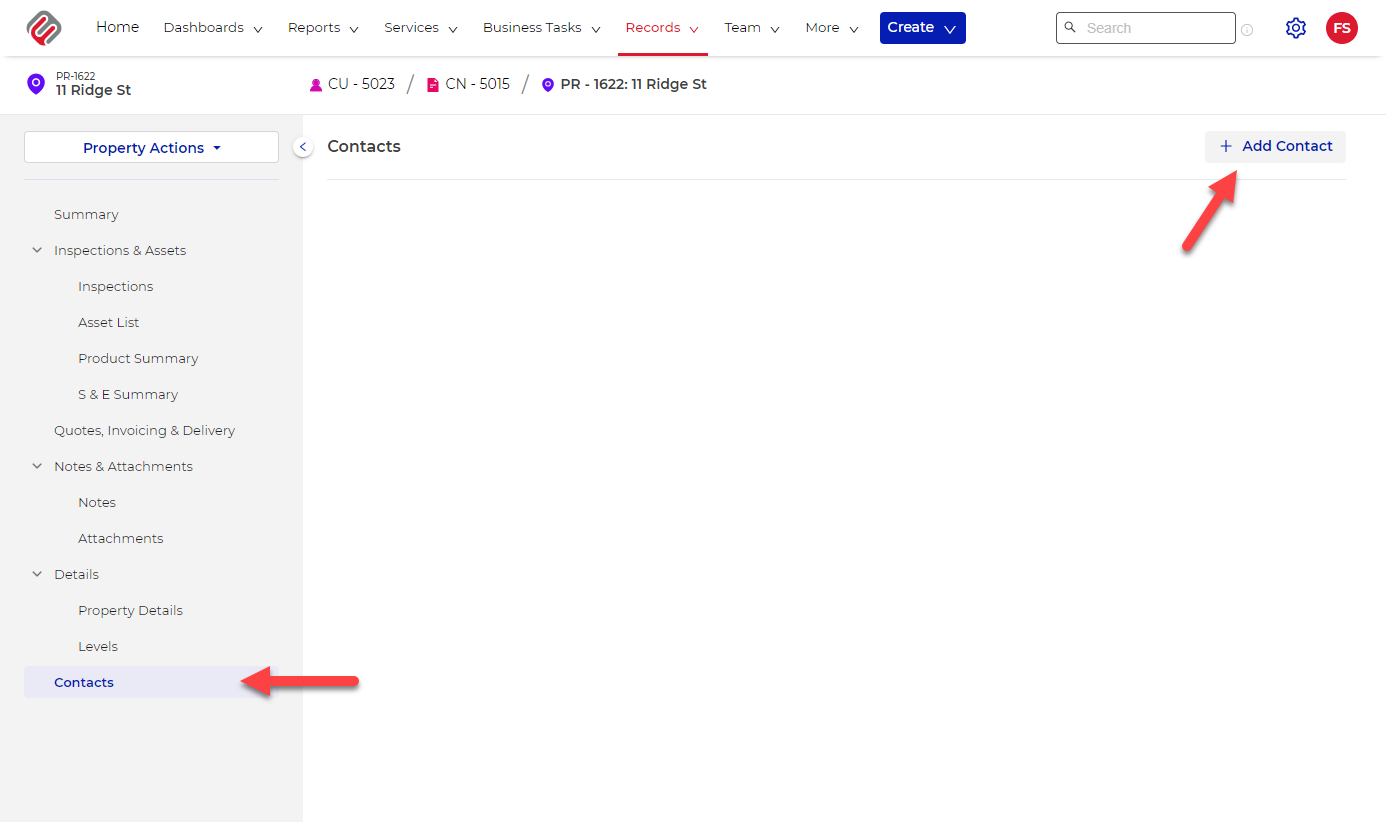 2. You can add a new Contact by filling out the form and selecting [Save] or choose an existing Contact you may have already added previously in your system.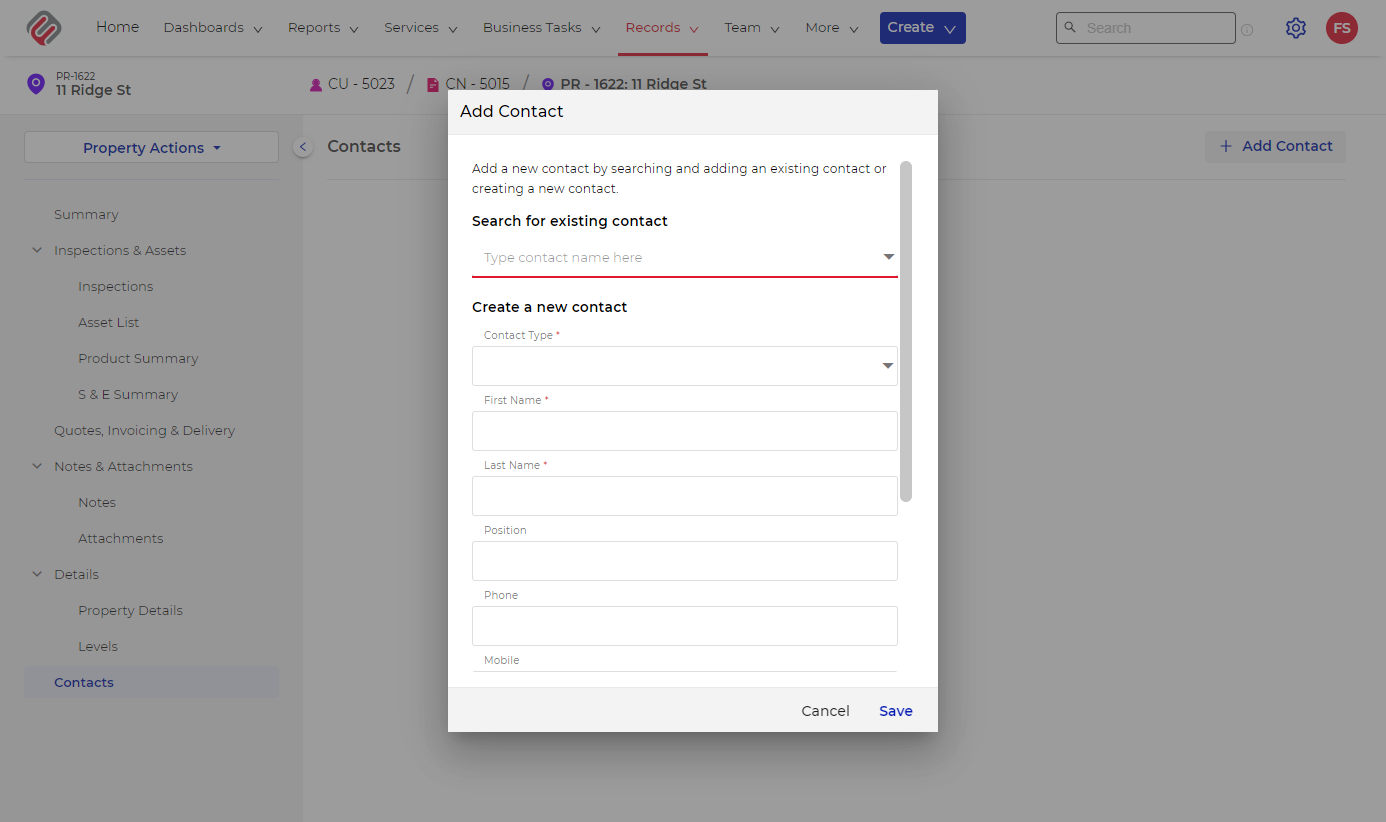 Quotes, Invoicing and Delivery Settings
Only applies to systems with more than one Business Entity
When setting up a Property you can define the settings around Quotes, Invoicing and the Delivery of service work to your Customer.
These settings a primarily used when you run two or more Trading companies (Business Entities) within your business.
Invoices can be sent on behalf of one of your Trading companies but then have the work completed by another. This then helps in keeping track of revenue for each business and ensure your Customer is quoted and invoiced from the company you engaged the Customer with.
These settings will default from the Contract the Property belongs to.
1. To change any of these settings select [Edit]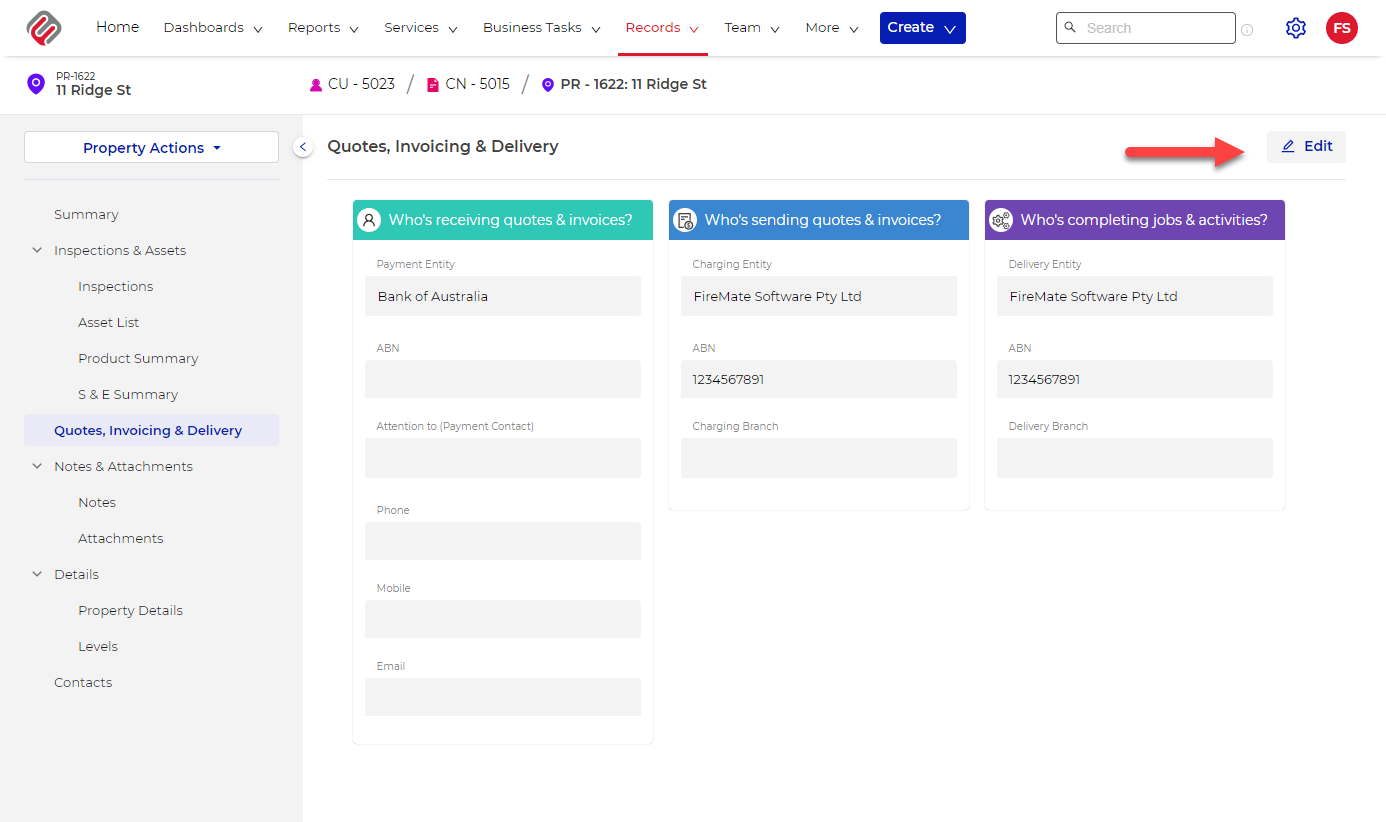 2. Then to save your changes select [Save]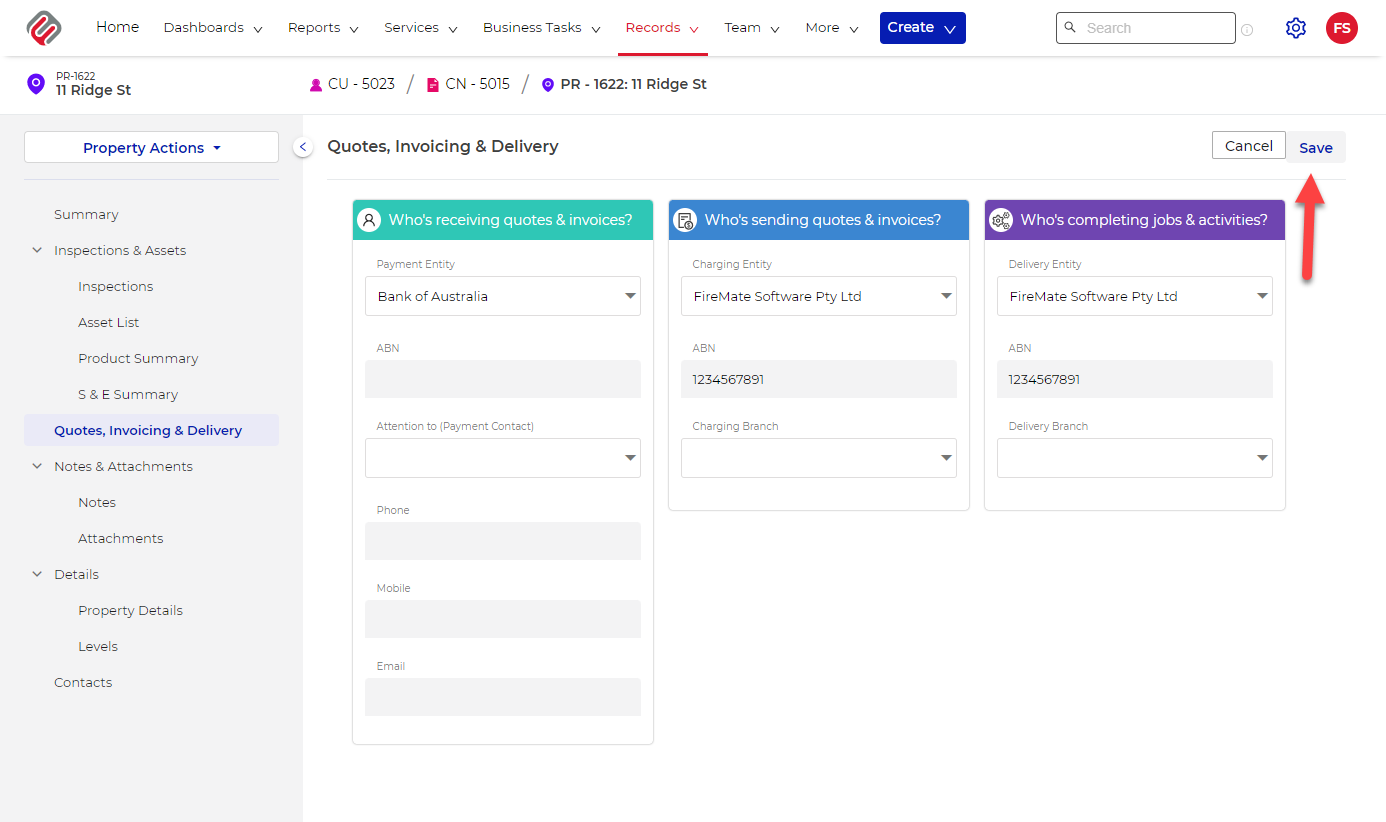 Adding Notes to a Property
Notes can be added to a Property which is used to communicate to Users when viewing information relating to the Property.
A note can be defined as either a Passive, Coordinator or Technician Note
Passive

A Passive note is simply stored for informational purposes.

An example of a passive note is a phone conversation the user had with the Contact.

Coordinator

When a Coordinator note is added to the Contract, all associated RA's, SR's, Jobs and Quotes will display the note to all Users.

An example of a Coordinator note is "all invoices require a Purchase Order Number " or "Please send all Quotes to Fred Flinstone".

A Coordinator Note works via a hierarchy. When a note is added to a Property level, it will appear for this Property only.

Technician Note

When a Technician Note is added to the Contract, the note will display on the mobile device for the technician to see when they open an RA, SR or the Property details.

An example of a Technician note is "Please see manager on arrival".

A Technician Note works via a hierarchy. When a note is added to a Property, it will appear for this Property only
1. To add a new Note to a Property select the [Notes] option on the menu. Then select [Add Note]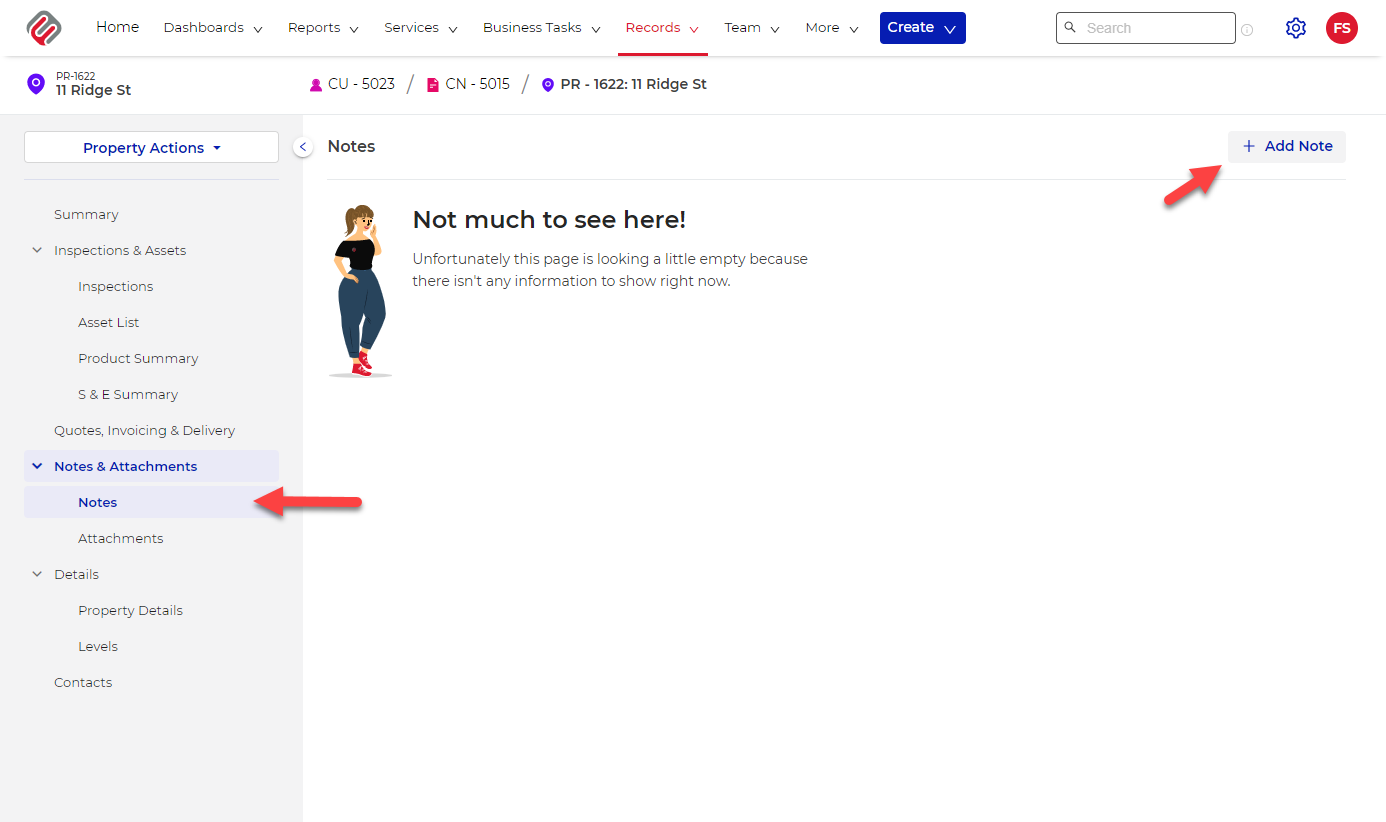 2. Select the Type that the Note is, then enter the Note Details and if the Note is not defined with a Type of 'Passive' set the Start and Expiry dates. The Start and Expiry dates are used to control what period the Note will display for.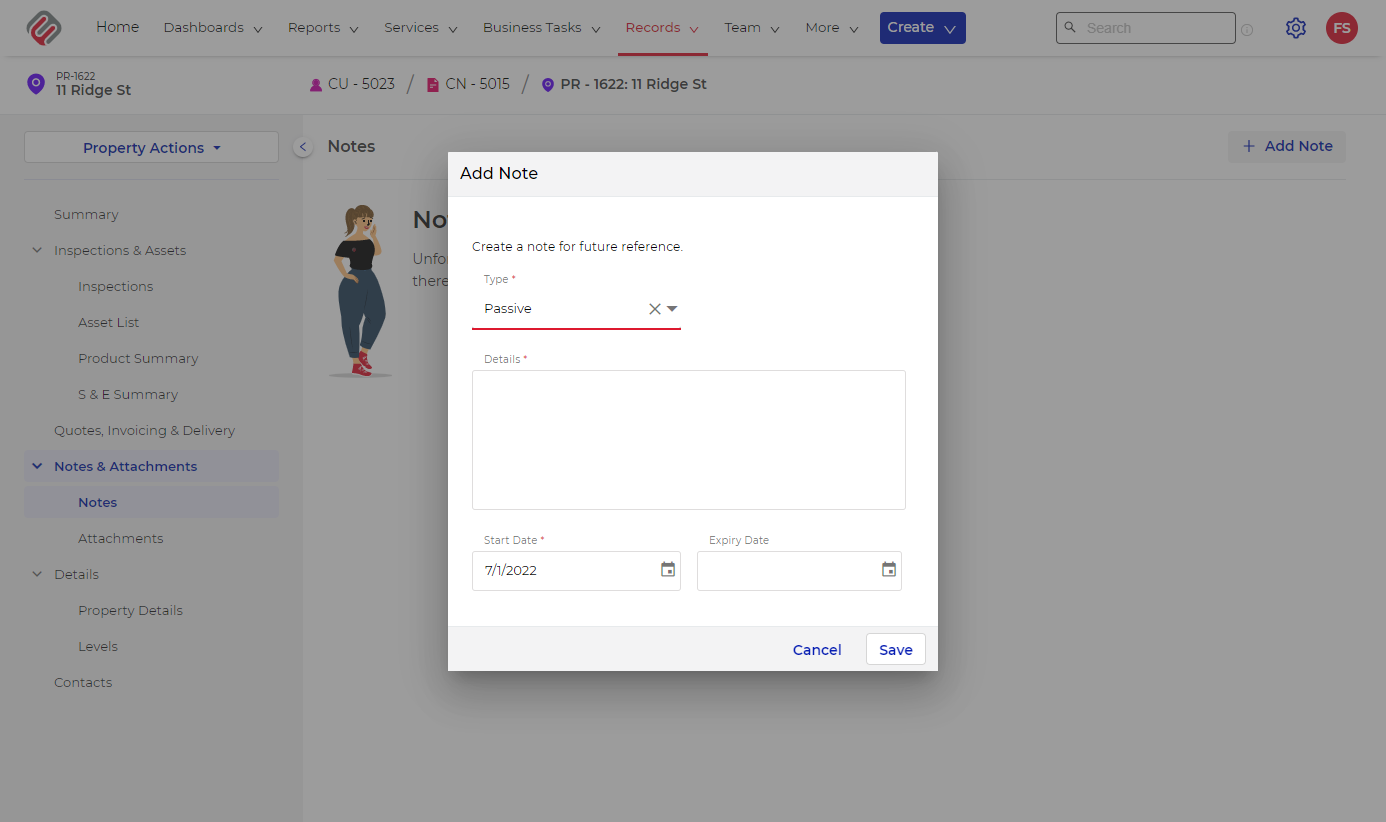 Tip: If you leave the Expiry Date empty the note will always display
3. To save your Note select [Save].
Adding Attachments to a Property
Files can be attached against a Property for later reference. These can be of any type and size.
1. To attach a file to the Property, select [Attachments] from the menu and select [Add Attachment]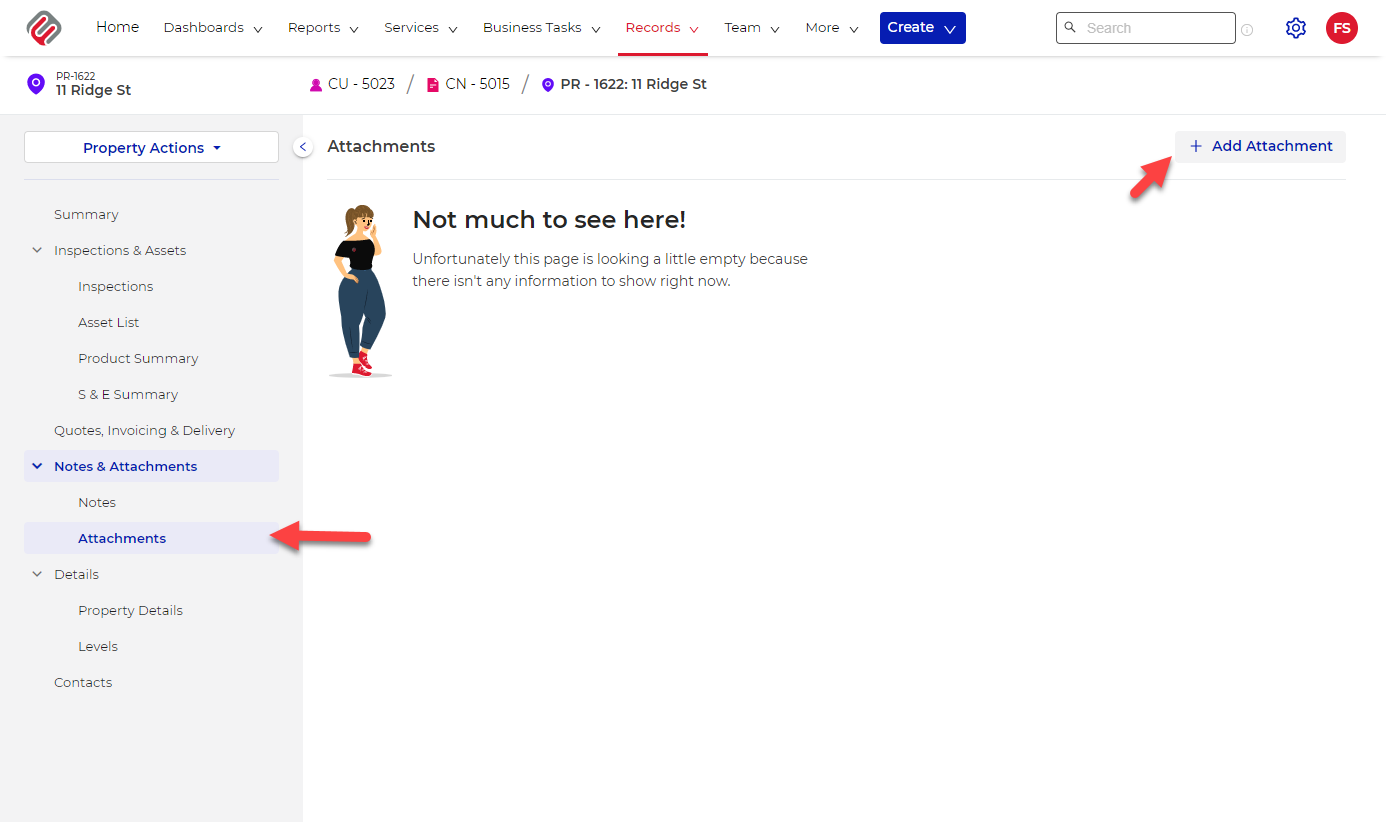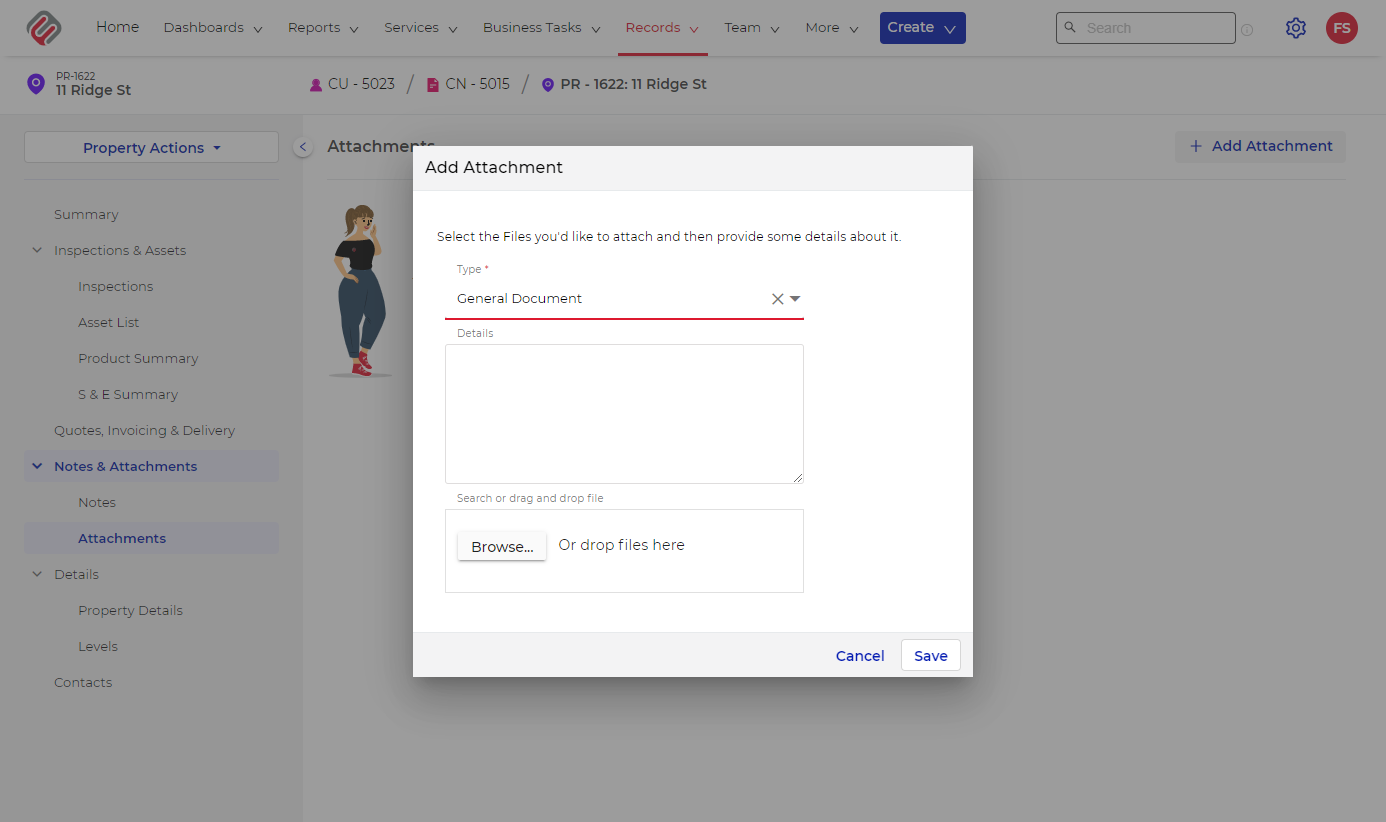 2. Set the 'Type' of file you are uploading. The Type can be one of the following:
| | |
| --- | --- |
| General Document | Used for categorising any file which does not fall into one of the categories below |
| Contract Document | Used to categorise a file relating to a Contract |
| External Attachment | Used to categorise a file that was sent from an external party |
| Fire Safety Statement | Used to categorise a file which is a Fire Safety Statement |
3. Select [Browse] to locate the File(s) you wish to upload and attach against the Contract . If it's easier, you can also drag and drop the file from your desktop.
4. Select [Save] to save the files uploaded as attachments on the Property
5. Once the files are uploaded you can download them by selecting the File attachment name on the screen.